Yesterday was Tal's birthday. It also happened to be the day that we were moving into a new house. As I write this, I'm sitting next to stacks of boxes in a place that doesn't quite yet feel like home. But hopefully, it soon will.
Despite our move, I still wanted to bake Tal a cake. It seemed like an impossible task to pull off with a toddler…on moving day! In the end, I couldn't resist the challenge, and an opportunity to surprise the man I love. The frosting is incredibly simple and keeps for days in the fridge. I made it ahead of time and stored it in a Tupperware container. As for the cake, I came up with a recipe that only needed a few, not yet packed ingredients, and no mixer. Tal was more than a little surprised when he woke up and found a cake sitting in our all but deserted kitchen. In fact, the biggest challenge we had was coming up with some plates to serve it on. Luckily, the neighbors were able to help us out. We all sang Happy Birthday, and even the movers enjoyed a slice of cake.
I wish unpacking all these boxes was as simple as whipping up this cake. Sadly, that's one birthday wish that won't come true.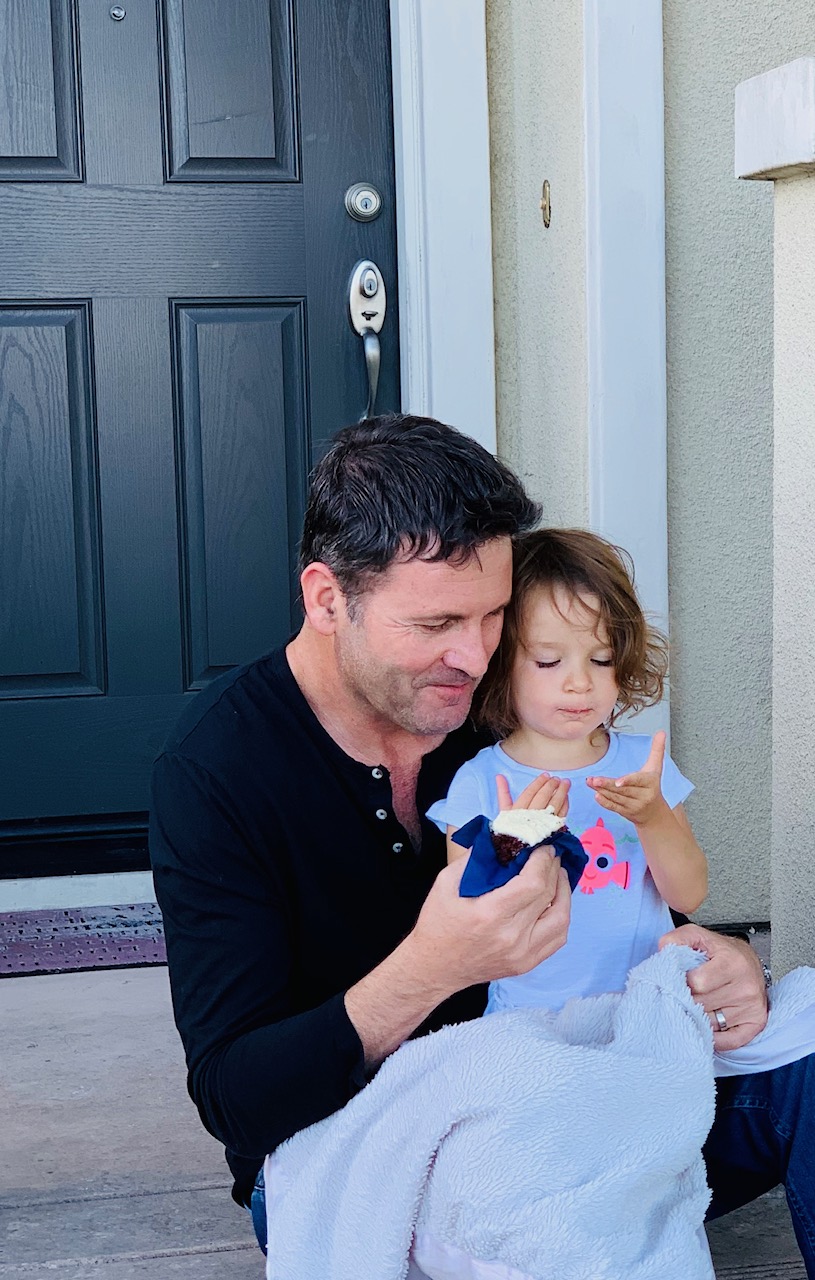 Chocolate Carrot Cake    
Serves 12
(For the cake)
1 cup plus 2 tablespoons all-purpose flour
1/3 cup Dutch processed cocoa powder
¾ cup sugar
1 teaspoon baking soda
¼ teaspoon salt
Pinch of cinnamon
1/2 cup buttermilk
2 carrots (about 1 cup), finely grated
1 egg
½ cup of algae or canola oil
1 tablespoon vanilla
(For the Frosting)
8 ounces cream cheese
2 ounces butter, softened
1 teaspoon lemon juice
2 1/2 cups powdered sugar
½ teaspoon vanilla
Preheat the oven to 350. Grease and line a 8×8 square pan with parchment paper. Set aside.
In a large mixing bowl, combine the flour, cocoa, sugar, baking soda, cinnamon and salt. Create a well in the center and pour in the buttermilk, grated carrots, egg, oil and vanilla. Whisk until thoroughly combined. Pour the batter into the cake pan. Bake in the oven for about 20 minutes, or until a knife inserted into the center comes out clean.
To make the frosting, in large bowl, beat cream cheese and butter with electric mixer on medium-high speed until smooth. Beat in vanilla. On low speed, beat in powdered sugar (sift in if lumpy) until frosting is smooth and creamy. Spread on top of cake. Cut into 3 rows by 4 rows. Cover and refrigerate any remaining cake.