Kale Caesar Salad with Parmesan Crusted Avocado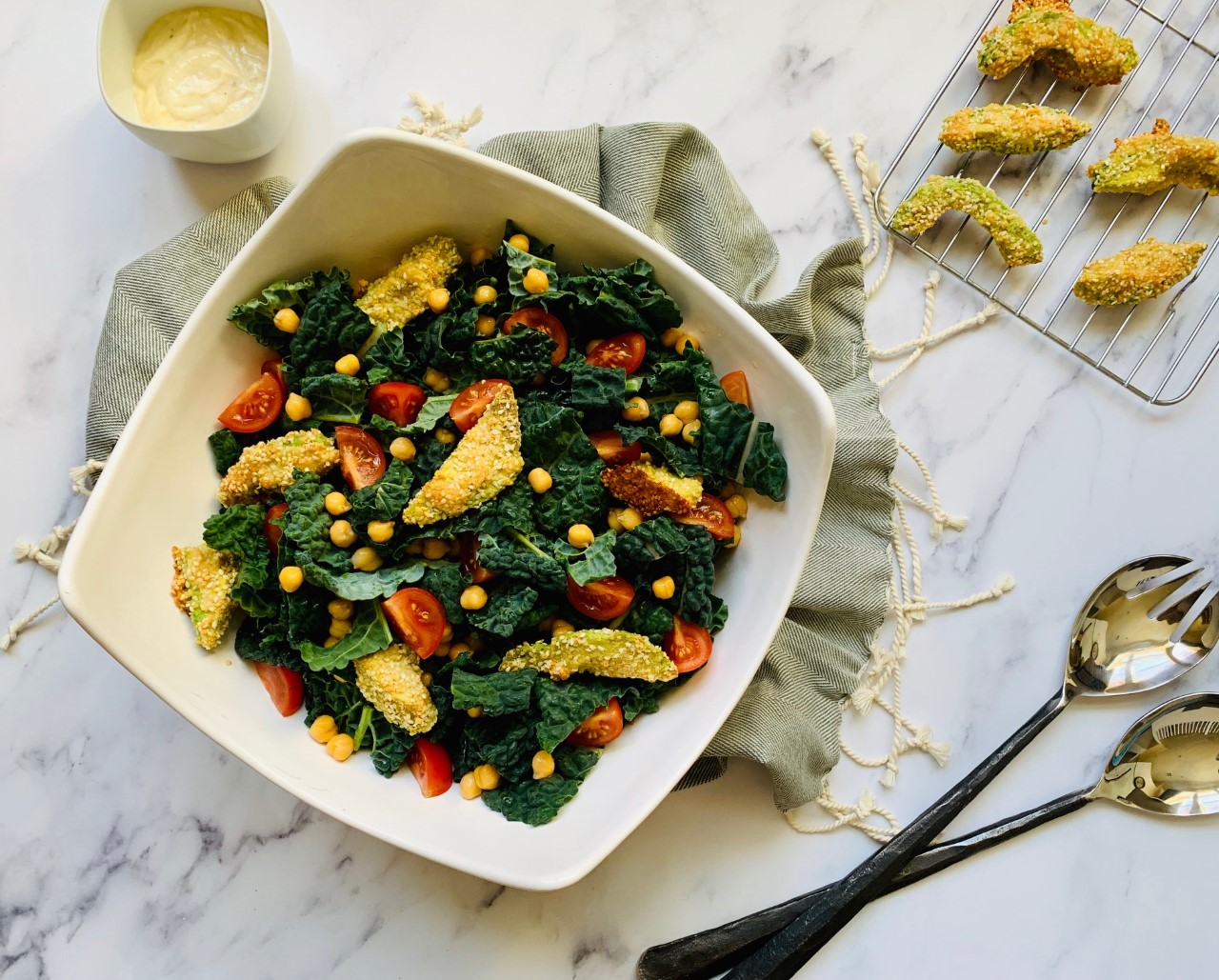 The first time I ever tried Caesar salad was with my father. He took me on a father-daughter dinner date to Poco Diablo, a resort in Sedona, the town where I grew up. The waiter came to the table and prepared the dressing in front of us. I remember thinking this was something very special.
This modern version, gets its swagger from the parmesan crusted avocado wedges and a pop of color (not to mention vitamins) from the kale. If you're a purist you can use romaine instead.
Kale Caesar with Parmesan Crusted Avocado
Serves 3
1 bunch kale, washed and cut into pieces
1 cup garbanzo beans
1/2 cup cherry tomatoes
2 avocados, ripe but firm
1/3 cup white sesame seeds
1/2 cup canned or fresh parmesan
(For the Dressing)
2 garlic cloves, crushed
2 teaspoons anchovy paste (found near the canned tuna in the supermarket)
2 tablespoons freshly squeezed lemon juice
1 teaspoon Dijon mustard
1 teaspoon Worcestershire sauce
1 cup mayonnaise, best quality such as Hellmann's Real
1/3 cup freshly grated parmesan
1/4 teaspoon salt
1/4 teaspoon freshly ground black pepper
To prepare the dressing: In a medium bowl, whisk together the garlic, anchovy paste, lemon juice, Dijon mustard and Worcestershire sauce. Add the mayonnaise, parmesan, salt and pepper and whisk until well combined. Taste and adjust to your liking. The dressing will keep well in the fridge for about a week.
To prepare the parmesan crusted avocado wedges:
Preheat the oven to 400F. Line a baking sheet with a silpat or parchment. In a small bowl, mix together the sesame seeds and parmesan. Cut the avocados in half. Remove the pit and cut each half into four pieces. Roll each piece in the parmesan and sesame mixture until well coated. Transfer to the baking sheet. Once all the avocado slices are coated, bake them in the oven for about 15 minutes, or until golden brown.
While the avocado wedges are baking, prepare the salad. Wash the kale. Remove the thick stems, cut into strips and toss into a bowl. Add the drained garbanzo beans and the cherry tomatoes. Toss the salad with the dressing and allow it to sit for about 5-10 minutes. This will soften the kale.
When the avocado wedges are golden brown, remove from the oven and cool for 5 minutes. Place them on the salad and serve.