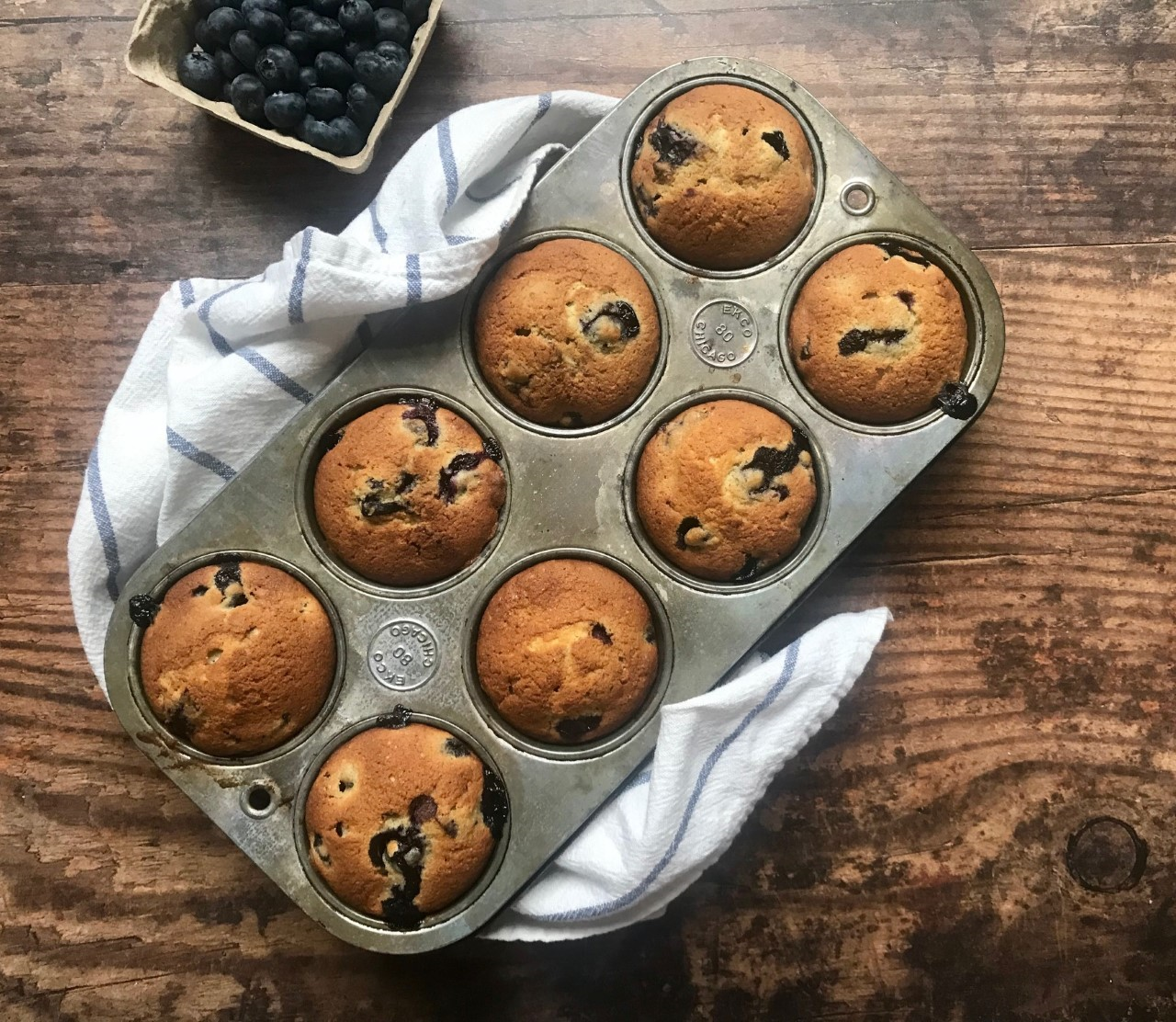 Growing up, I was the weird kid that didn't like pancakes. I'm not sure what I found so displeasing about those light and fluffy rounds. If I was going to have something sweet for breakfast, blueberry muffins were always my favorite. I've outgrown my dislike for pancakes, but never outgrew my love for blueberry muffins.
This version mashes some of the blueberries into the muffin batter, ensuring that they're moist and every bite is packed with blueberry flavor. It also has some lemon zest, for a hint of tang. But if you prefer your muffins plain, you can substitute vanilla extract. I've also given them a bit of a healthy twist. I've added in some chia seeds and a mix of all-purpose and rye flour. The addition of rye flour gives them an extra delicate crumb and amplifies their buttery flavor.
When I make these muffins, I always like to take a platter of them to Talya's daycare so she can share them with her teachers and friends.
Blueberry Muffins
Makes 16
½ cup softened butter
1 cup plus 2 tablespoons sugar
2 eggs, room temp
1/2 tablespoon vanilla extract
1/2 tablespoon lemon zest
2 cups all-purpose flour, or, 1 ½ cups all-purpose & ½ cup rye flour
½ teaspoon salt
2 teaspoons baking powder
½ cup milk, room temperature
2 cups blueberries, washed, drained and picked over
1 heaping tablespoon chia seeds
Preheat the oven to 375F.
Cream the butter, lemon zest, and sugar for 3 to 4 minutes, until light.
Add the eggs, one at a time, beating well after each addition. Add the vanilla.
Sift together the flour, salt and baking powder, and add to the creamed mixture alternately with the milk.
Crush 1/2 cup blueberries with a fork, and mix into the batter. Fold in the remaining whole berries and the chia seeds.
Line 16 standard muffin tin cups with cupcake liners, and fill with batter. Bake for about 20 to 25 minutes. Store leftovers at room temperature, tightly wrapped, for up to three days.