My Guide to Athens, and a Sweet Recipe, too!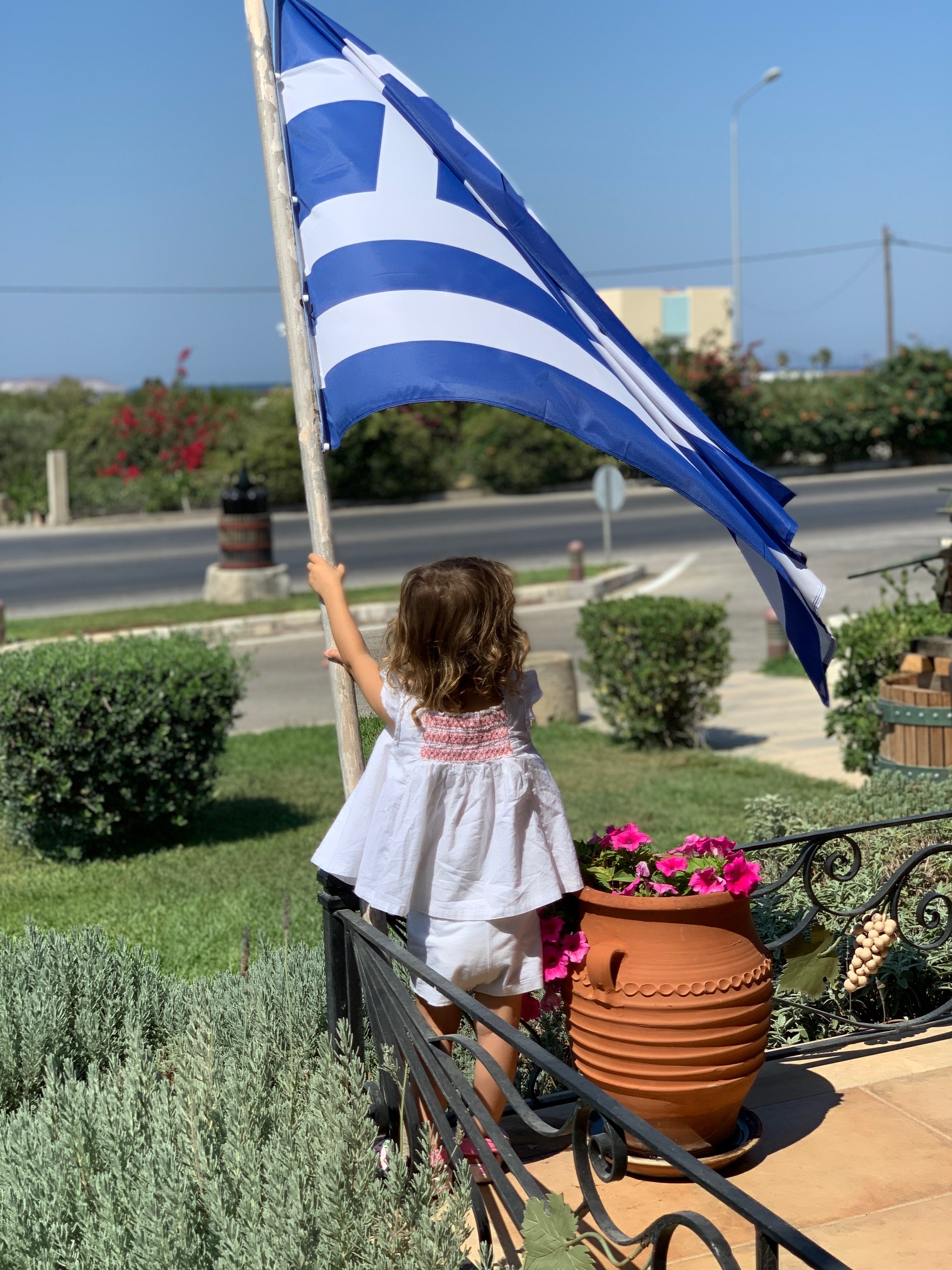 First, my apologies for not posting anything last week. I've been so busy trying to meet with friends and family that I didn't have a free moment to sit down and write. I'm trying to savor every moment of this final week in Athens. There are so many wonderful spots that I love in Athens and I'm trying to visit them all before I leave: coffee shops, clothing stores, antique shops, restaurants, tavernas, ice cream shops, and more. This got me thinking. Should I keep all the wonderful places that I discovered when I lived in Athens a secret? Maybe, the best "recipe" I could provide this week isn't one that can be whipped up in the kitchen. But don't worry, this guide includes a sweet recipe at the end. So, read on. Athens might just move to the top of your travel list.
Where to go for a Drink:
Amaryllis
(15 D Kyriakou St. Kifisia)
Located in the heart of Kifisia, up a cobble stone street in what is arguably one of Athens most affluent neighborhoods is the charming Amaryllis Cafe. It's the perfect spot to join the locals and sit down for a cocktail or a cup of coffee and a slice of cake. Coffee is an integral part of the Greek social scene. Coffee shops tend to fill up starting in the afternoon and remain full until the wee hours of the morning. When I lived in Athens, I frequented this café often. I still love going there when I visit Greece.
Heteroclito
(Fokoinos 2 & Petraki 30, Syntagma)
I love Heteroclito for several reasons. One, the bar serves nothing but wines that are produced in Greece. They also serve a limited menu of cheeses, cold cuts, and pitas, which are all from Greek producers. It's a great place to experience the wines of a country that is often overlooked when it comes to oenology (By the way, oenology is a Greek word. So, let this stand as proof that the roots of Greek wines go much deeper than the lowly Retsina). The other thing that struck me about Heteroclito from the first time I went there was the style. The bar is small with an understated charm. The dim lights, marble counter, and neon signs, are reminiscent of 1950's Paris. I never made the connection until the day I met Madeline, the owner. As it turns out, she's half-Greek and half-French! The fact that she decided to open a wine bar, serving nothing but Greek wines says it all.
Where to Eat:
Penirli Ioannis
(Panormou 3, Ambelokipoi)
One thing I can tell you about Greeks, they don't wait in line for food the way Americans do. If the cronut (as great as it is) had been invented in Greece, I don't think people would have willingly spent hours in line to get their hands on one. So, it says something when you see a line of people patiently waiting outside of Peinirli Ionias. For those of you not familiar with peinirli, it's a dish that's similar to pizza, but the dough is shaped like a boat.
As you approach the shop, the air becomes heavy with the scent of freshly baked dough and oregano. Inside the shop, the wood burning oven takes center stage. While waiting for your peinirli you can watch the shop owner, Mr. Spyros, shaping dough and pulling warm peinirli from the oven. The recipe he uses is a traditional recipe that was handed down to him by his grandfather. "Of course, there is one secret ingredient," he says, "love for what we are doing!" There are two things that, for me, set Peinirli Ionias aside from other similar shops. The first reason I love this shop is the beautiful wood burning oven. It chars the edges of the fluffy dough and gives it a flavor that simply can't be achieved when you bake in an electric or gas oven. Secondly, Peinirli Ionias offers some well thought out variations. My personal favorite is the peinirli stuffed with eggplant, fresh dill and anthotiro (a soft goat cheese similar to chevre). If you go, the best time to go (and avoid the lines) is late morning. By afternoon they usually run out of penirli.
To Barbounaki
(Charitos 39B, Kolonaki)
I was a bit hesitant when I first decided to trust a local blogger and dine at a fish taverna in Kolonaki. Don't get me wrong, Kolonaki has some great restaurants. But could I really be satisfied eating at a fish taverna in the center of the city instead of next to the sea? Thankfully, the answer was a resounding, yes! This spot has loads of city charm, while still offering some of the most fresh and flavorful fish in town. If you go, be sure to order horta, local greens. This restaurant offers some of the more unusual greens, such as almira (salty sea asparagus) and stamnagathi (chicory of the sea). Other not to miss dishes include the mussels steamed in wine and orzo pasta with langoustine. The night I was there, I ran into the owner of the publishing house that published my cookbook in Greece. This is a woman that knows every chef in Athens. If she chooses to eat here, you know it's got to be good!
Eidikon
(Psarron 38, Piraeus)  
Eidikon first opened in Athens in 1920. Four generations later, Eidikon is still cooking up traditional Greek dishes, and serving their own retsina, a Greek spirit that could probably peel the paint off the walls. It's an acquired taste, but no trip to Greece is complete without it! Time has stood still at Eidikon. Black and white photos hang on the walls. The checkered floor is marked and scuffed. Like a sweet old lady's face, it's covered by the marks of time. There's memorabilia throughout the restaurant paying homage to the bygone eras, such as the old refrigerator from 1938 with a sign on it stating, "the first refrigerator model in Greece." The metal door that slides down over the windows at night is pre 1940's. It still has the bullet holes shot into it by the Nazi soldiers during WWII." I am overwhelmed by the history of the old tavern. I can't help but imagine everything the place has seen. But then our food arrives, biftekia (little fried beef patties), gigantes (giant beans) and the "tourta" a mountain of freshly fried potatoes topped with farm fresh eggs. The scent of hot olive oil and freshly fried potato fills the air. One whiff and I know why Eidikon has stayed in business for almost one hundred years. I bite into a crispy potato, and all else is quickly forgotten.
Chochlidaki
(31 Adrianiou, Neo Psuxiko)
This classis Greek ouzeri is one of Tal's favorite restaurants in Athens. Diners can choose from the hundreds of bottles of Greek spirits that are stacked up throughout the restaurant: ouzo, raki, tsipouro. Chochlidaki has it all! Most of the dishes are premade (but exceptionally good). Servers come around and present the plates to each table. You take what you and trust me you'll want them all: crispy fried shrimp, black eyed pea salad, dolmades, marinated octopus, fava, and the list goes on. Go hungry and practice the phrase, "geia mas." It literally means to our health and is the way Greeks say cheers when having a drink.
If You're Craving Something Sweets:
Le Greche
(16 Mitropoleos St, Syntagma)
The shop is owned by a husband and wife, one Italian and the other Greek. Le Greche is the perfect union of cultures in gelato. It's made in the classic Italian style, using predominantly Greek ingredients. The lemon gelato uses lemons from Argos, the ricotta comes from Crete, oranges from Laconia, and figs from Kalamata. It's the perfect spot to grab a cool treat on a hot day in downtown Athens.
Varsos
(5 Kassaveti, Kifisia)
Varsos has been a staple in Kifisia for over 100 years. As soon as you enter Varsos you feel as if you're stepping back in time. Black and white photos hang on the walls. Display cases filled with classic Greek pastries line the walls. Bags of koulouria (Greek biscuits) and jars of gluka tou koutaliou (spoon sweets) are stacked on tables. This is the place to go for classic Greek pastries baklava, galaktoboureko (custard pie), karidopita (walnut cake) and halva (spiced semolina custard).
If you can't go to Greece this summer, let Greece come to you. Below is a recipe for halva that's inspired by the recipe at Varsos. This photo was taken by Ioanna Roufopoulou, one of Greece's best photographers. Her photos have appeared in every major Greek magazine, from cooking to architecture and design. She is the amazing photographer that took the images for my Greek cookbook. She has also taken some of our family photos when we visit Greece. So, if you do visit Athens, send her an email and have her take some family photos to document a trip that I guarantee you will never forget!
Halva Semolina Pudding
Serves 4
1 cup semolina  (substitute farina or cream of wheat)
¼ cup vegetable oil
2 tablespoons olive oil
1/4 teaspoon cinnamon
Pinch of salt
1/4 cup almonds
1/8 cup raisins
2 ¼ cup water
1 ¼ cup sugar
¼ cup honey
2 cinnamon sticks
1 slice of orange
To make the syrup, add the water, sugar, honey, cinnamon sticks, and orange to a pot. Boil over medium heat for 5 minutes. Lower the heat and simmer gently until slightly thick. Remove the cinnamon and orange peel before pouring.
Meanwhile, in a separate pot, over medium-high heat, add the oil and heat until shimmering. Add the semolina and cook, stirring frequently to prevent sticking. Cook the semolina in the oil until the grains begin to toast and turn a deep golden color.
Remove the pot from the heat and carefully add the hot syrup. The semolina will bubble and sizzle so be careful not to burn yourself. Stir in the chopped almonds and raisins and continue to cook until all of the liquid has been absorbed. Cover the pot tightly and set aside to cool for 15 minutes. Spoon the mixture into small ramekins or molds and allow to cool before serving. 
Just before serving, unmold and sprinkle the cinnamon on top.