Perfect Spring Traybake Cake
This Easter was especially exciting for our family. Talya got to participate in her first Easter egg hunt. At first she just walked up to the eggs, touched them and left them there, assuming that whomever they belonged to would return. It took her a while to get the hang of it, but once she did, she was excited to go on the hunt.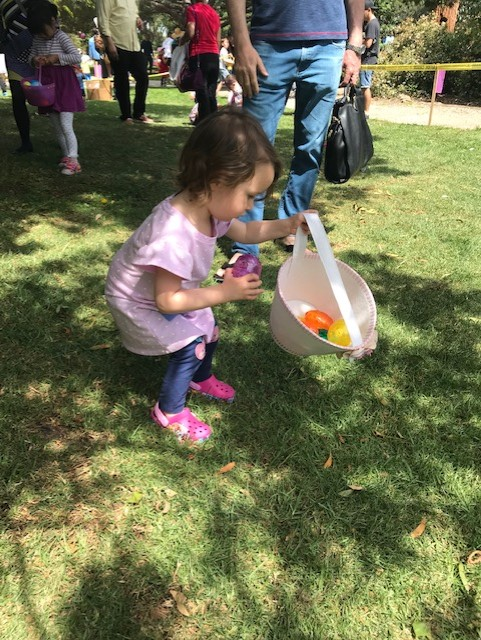 The Easter Bunny, on the other hand, she wanted nothing to do with. There's just something unnatural about a life-sized rabbit, wearing a tie. Talya seemed to know it. The bunny might have been a miss, but dessert was a big hit. Talya loved the cake, and even dug the blueberries out of the cream with her fingers. It doesn't get any better than sitting in a bed of wildflowers, licking whipped cream off your fingertips.
This cake might look impressive, but it was a cinch to make. I actually used a box cake mix. Shh… I livened it up with lemon zest and buttermilk. If you don't tell anyone, I promise, they'll never know. As for the topping, it's just a bit of freshly whipped cream with a pinch of sugar and some plain Greek yogurt folded in. If you've never tried making a whipped cream topping with Greek yogurt, you're missing out. So far, I've managed to convert everyone who tries this version of whipped cream. Not only does it taste better, but it's also better for you. The tartness of the yogurt works especially well with the combination of lemon and berries.
Lemon Traybake Cake
Serves 12
For the Cake
1 box Duncan Hines yellow cake mix
3 eggs
Zest of 1 lemon
1 cup buttermilk
For the Frosting
3/4 cup heavy whipping cream
1 1/2 tablespoons sugar
1 cup low-fat Greek yogurt
1 cup blueberries
Preheat the oven to 350F. Line a 9×13 inch cake pan. Pour the cake mix into a bowl. Add the lemon zest. Add the eggs. Use buttermilk instead of the water called for in the recipe. Alternatively, if you don't want to buy a whole carton of buttermilk, simply combine 3/4 cup milk and 1/4 cup lemon juice. Allow the mixture to sit for one minute. Stir. Viola! You have buttermilk.
Place the cake into the oven and bake following package instructions.
Once the cake is done, allow to cool before frosting.
To make the frosting, whip the cream on high using a stand mixer. Once the cream is thick, add in the sugar a few spoonfuls at a time. Whip until firm. Whisk in the Greek yogurt. Dollop the cream onto the cake and sprinkle the blueberries on top. Serve.
Leftovers can be stored in the refrigerator for up to 3 days.