Koulourakia for Greek Easter
We Greeks like to do things a bit differently. So, while most of the world has already celebrated Easter, we're just getting started. In Greece, Easter easily surpasses Christmas as the biggest holiday of the year. Whole lambs are roasted over a spit. Fireworks light up the night sky. Eggs are dyed red, and of course, there are cookies. My yiayia (along with all good Greek grandmothers) made koulourakia (braided vanilla cookies) every year for Easter. She'd spend days baking. Once she was done, she'd put together little plates of cookies and dyed eggs to handout to everyone in the neighborhood. Needless to say, she was quite popular around the block.
Today, I'm continuing the tradition with Talya. The rolling and twisting of the cookies proved challenging for her. So, I came up with a non-traditional but equally tasty cutout version that Talya could easily manage. As for the sprinkles, they were Talya's idea. What to say? Sometimes you have to try something new! So, whether you decide to make the classic version, or the koulourakia 2.0, the results will be crisp, buttery, delicious, vanilla cookies.
Χριστος Ανέστη!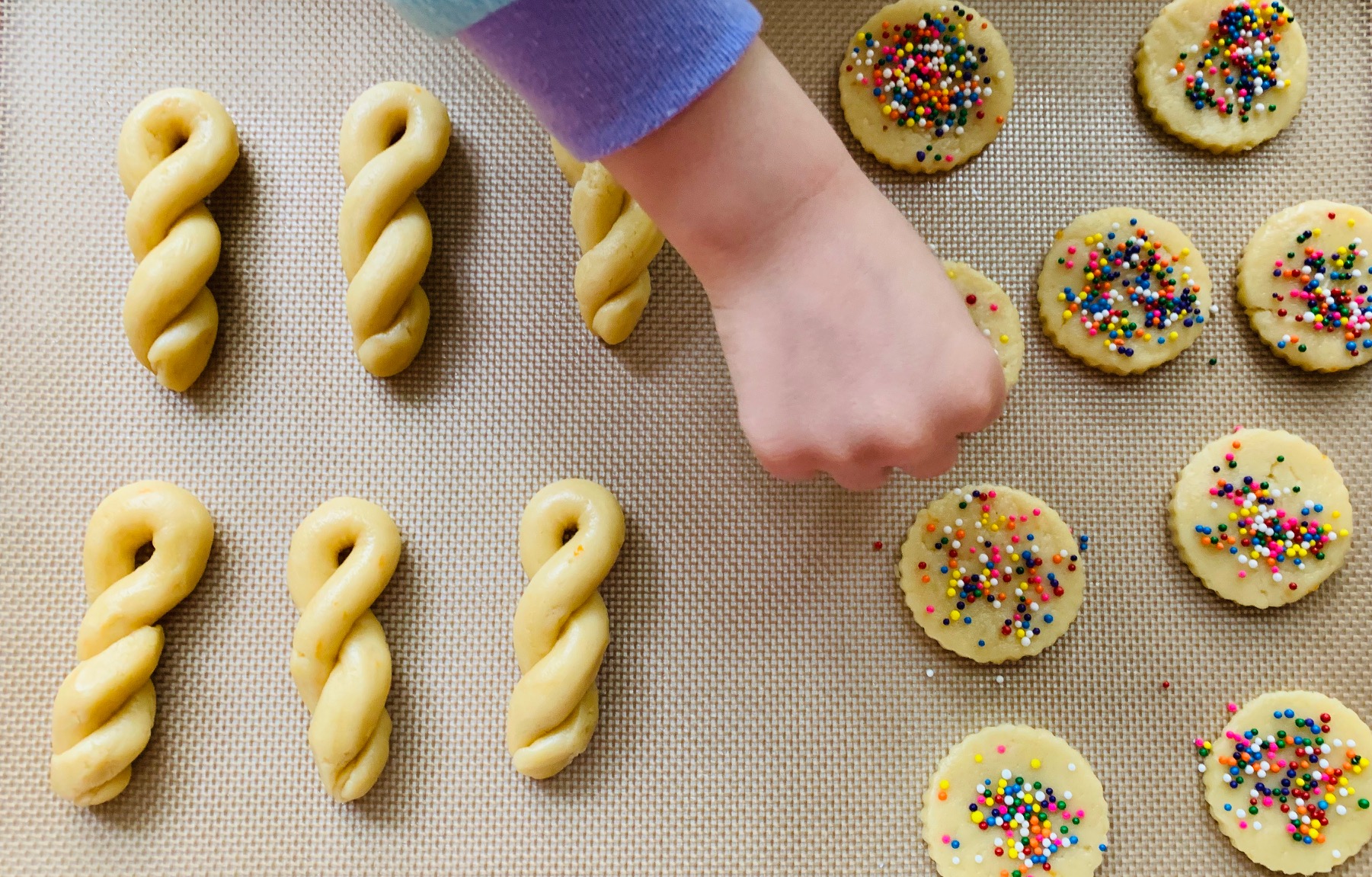 Koulourakia
Makes about 50 cookies
10 ounces (290 grams) unsalted butter, room temp
8 ounces (240 grams) sugar
2 eggs, room temp
½ cup (100 grams) whole milk
2/3 cup (120 grams) fresh orange juice
Zest of half an orange
1 tablespoon vanilla
1 tablespoon Metaxa (brandy)
1 pound 15 ounces (900 grams) all-purpose flour
1 teaspoon baking soda
1 teaspoon baking powder
¼ teaspoon salt
In a stand mixer with the paddle attachment, beat the butter, sugar and orange zest together until pale and fluffy, about five minutes. Add the eggs one at a time, mixing in each for a minute.
In a small mixing bowl combine the flour, baking soda, baking powder and salt. In a separate bowl, combine the milk, vanilla, brandy, and orange juice. Add one cup the flour mixture to the butter. Mix until combined. Add all of the liquid and mix for one minute, or, until combined. Add the remaining flour mixture, mixing until a cohesive dough forms.
Chill the dough for 30 minutes before rolling. While the dough chills, preheat the oven to 350F (170C). Line two baking sheets with greased parchment and set aside.
Scoop the dough into balls, a little over 1 ounce each (about 30 grams). The balls should be about the size of a large gumball. Roll them into ropes, about six inches long. Flip the ropes into an upside-down U. Twist the sides over one another, forming a "braid." Alternatively, you can follow Talya's lead and simply roll the dough flat and use a cookie cutter to shape them into little circles.
Bake the cookies for 20-25 minutes, or, until golden brown.
The koulourakia can be stored at room temperature for up to three weeks…if they last that long!