Out of This World Apple Rings
Since many of us are still under lockdown, I thought I'd post a fun recipe that also makes a pretty fantastic kid's activity. These apple ring space "cookies" are the perfect canvas for creating a a bunch of colorful planets. A great source for some galactic inspiration is the NASA Hubble Space Telescope  photo gallery. 
This is one arts & crafts project kids can literally sink their teeth into. The best part is that these "cookies" are actually pretty healthy. Here is what you'll need: a healhty (low in sugar) berry flavored yogurt, some apples, dehydrated berries, nut butter, ground nuts and some melted chocolate. The photo below is all of the ingredients I set up to create these space rings. It was so simple yet so much fun.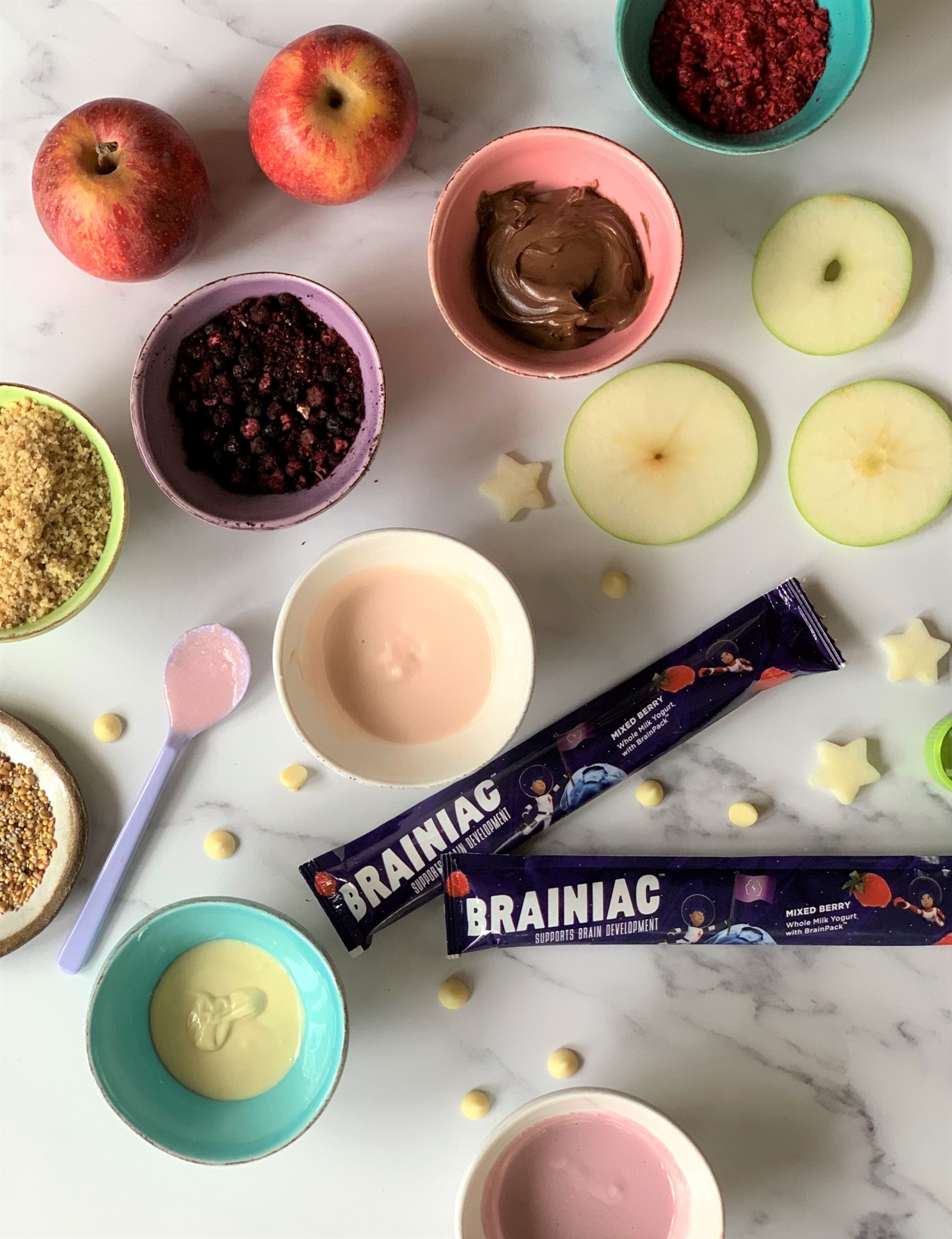 Apple Space Rings:
Several apples of various colors and sizes
Berry flavored yogurt, I suggest Brainiac Kids 
Dehydrated berries, I suggest blueberries, rasperries and strawberries
Toasted nuts, finely ground
White chocolate chips, melted
Chocolate & hazelnut butter spread
Wash the apples and slice into rings. You can also use a star cookie cutter to turn some apple slices into stars. Using a food processor or a clean coffee grinder, grind the nuts into a fine powder. Clean the food processor and pulse to lightly grind the dehydrated berries.
Place all the ingredients into small bowls to be used like paints. Top the apple rings with the yogurt or nut butter. Sprinkle the dehydrated berries or nuts on top. You can also drizzle the melted chocolate on top, using a spoon or a small piping bag. Swirl chocolate and ground berries together to create bright swirls of color.
If you don't have any piping bags and don't know how to make one out of parchment paper, place the chocolate in a ziploc bag and cut off one of the corners. It makes a simple piping bag that is easy for small kids to handle.
Forget about chocolate chip or oatmeal raisin. By the time your kids are done with these, they'll have a new favorite cookie!