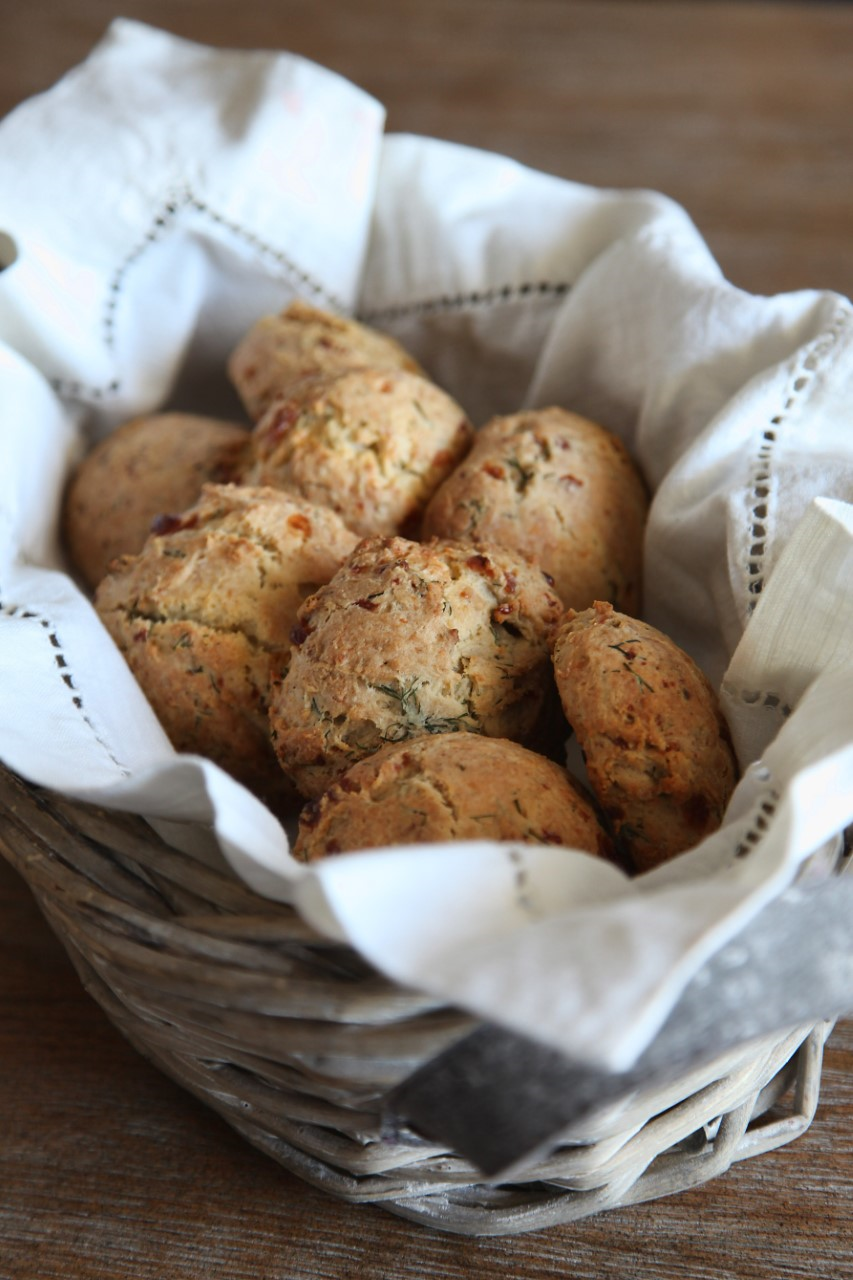 These biscuits get a light and healthy makeover with Greek yogurt, which replaces part of the butter. But don't let that fool you, they're still flaky and delicious! You can serve them with scrambled eggs, a nice salad, or roasted chicken. If you prefer your biscuit plain, you can omit the feta and dill. But I think the addition really gives them an interesting twist. 
Feta & Dill Biscuits
Makes 9
3 ounces of butter, chilled and cut into 1/2-inch cubes
2 cups cake flour
2 teaspoons baking powder
3/4 teaspoon salt
1/2 teaspoon baking soda
1/2 cup crumbled feta cheese
3 1/2 tablespoons fresh dill, chopped
1/2 cup plus 2 tablespoons buttermilk
1/4 cup low fat Greek yogurt (For best results I suggest Fage 2%)
Cut the cold butter into 1/2-inch cubes. Place the cubes on a plate or small baking sheet and refrigerate until ready to use.
Meanwhile, preheat the oven to 375°F with a rack in the center position. Coat a baking sheet with pan spray (even if it's non-stick) or line it with parchment paper or a silicone baking mat.
In a medium bowl combine the flour, baking powder, salt and baking soda. Cut in the cold butter using a fork or pastry cutter, until the butter forms small pea sized pieces and the flour is a sandy consistency. (Alternatively, use a stand mixer fitted with the paddle attachment on low speed to mix in the butter).  Add in the feta and dill, mixing just until blended.  Stir in the buttermilk and yogurt, mixing just long enough to form a soft dough.
Spoon the dough onto the prepared baking sheet, using about 2 1/2 to 3 tablespoons of dough per biscuit.  Lightly form the biscuits into a circular shape using your fingers. Press the tops of the biscuits flat with the palms of your hands.  The biscuits should be about a 1/2-inch thick. Bake for 15-20 minutes, or, until golden brown. Serve warm, or, at room temperature.