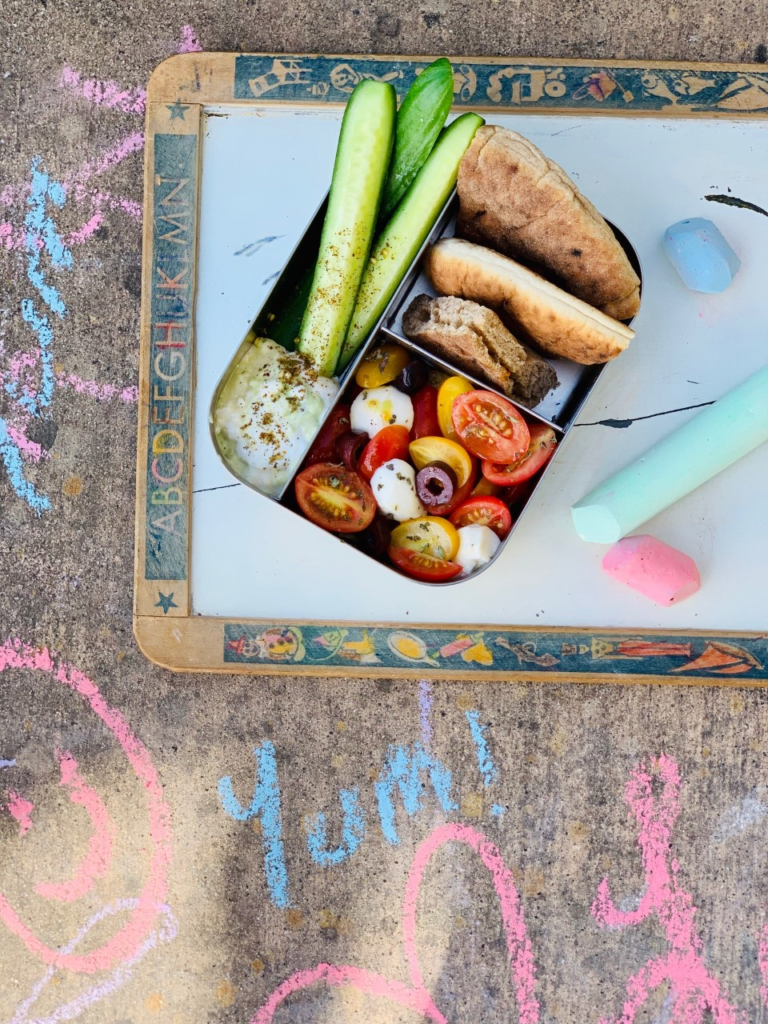 This fun and healthy version of pizza is a hit with kids and adults. It's perfect in the spring and summer, when tomatoes are flavorful and sweet. The best part is that the kids can get involved, helping to make their lunch. Even at two, Talya loves massaging the olive oil into the tomatoes. I'm definitely not allowed to help. "No, mama. I do it," she proudly tells me. The yogurt dip for the cucumbers is flavored with some packaged ranch. It's a simple way to create a healthier version of veggies with ranch dip.
Pita Pocket Pizza
Serves 2
1 cup cherry tomatoes
3 tablespoons olive oil
1 teaspoon dried oregano
pinch of salt
1/2 cup mini mozzarella balls
1/4 cup sliced olives
2 pita pockets, cut into triangles
For the Ranch Dip:
1/2 cup plain Greek yogurt
1 1/2 tablespoons powdered ranch dip
1 cucumber, cut into spears
To make the pizza filling, slice the tomatoes in half. Add the olive oil and salt, massaging them into the tomatoes with your hands. Sprinkle the oregano on top. Stir in the mozzarella and olives. Spoon the filling into the pita pockets right before serving.
For the ranch dip, mix the yogurt and ranch powder together. I often make this in bulk. It will keep in the refrigerator for up to a week. Was the cucumber and cut into spears.